We have extensive experience and capability in both systems and compliance auditing for all aspects of drill and blast operations. Here's a look at some of our Projects...
Development of Compliance Auditing Systems
A full set of compliance audits for both underground and surface operations developed based on comprehensive process models and risk assessments. These were applied across multiple operations spread across three continents.
Legislative Compliance Audit
Compliance to all relevant legislation audits can be performed for any juristiction. Most recent audit was at Glencore's Hail Ck operation. Audit compliance to state explosive and mining requirements as well as all relevant standards and codes of practice.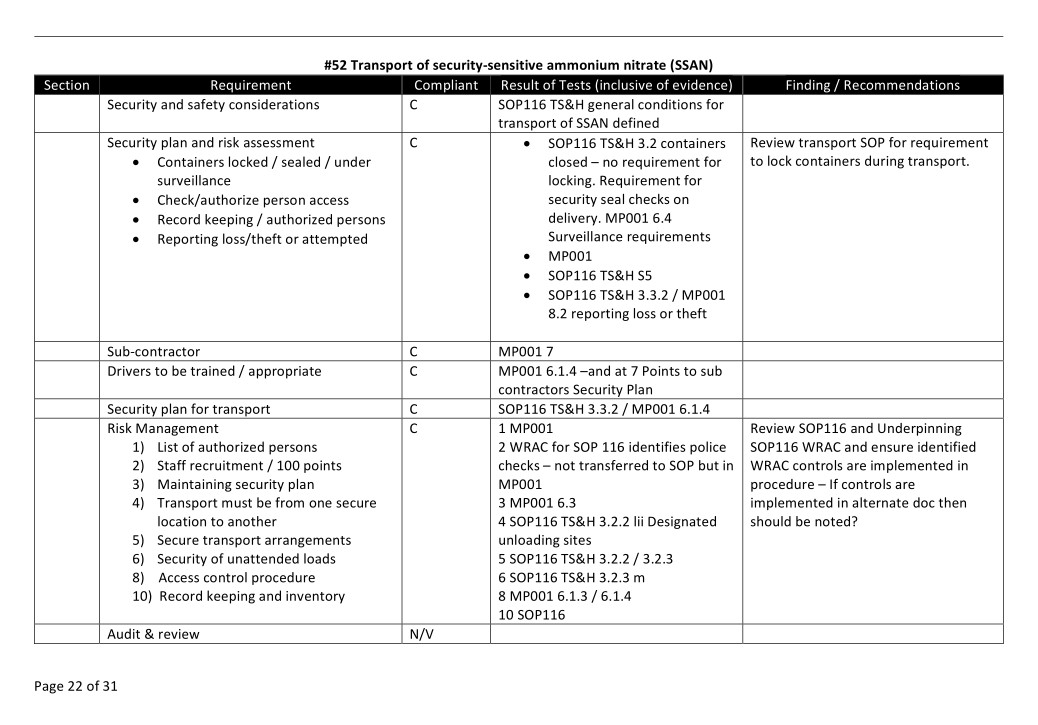 Operational Risk Assessments
Corporate sponsored risk assessments against critical controls aligned to identified priority unwanted events.

Emergency Response
The emergency response plans in relation to surface and underground magazines.
In the case of an unplanned detonation the requirement to consider the potential for subsequent detonations must be highlighted and the potential for this to compromise the recovery of persons within the exclusion zone.
In relation to exclusion zones around the underground magazines – these are not defined. It is worthwhile defining no-go zones for the installation of refuge chambers around underground Class 1 (and potentially Class 5) storages.
Response to explosives related emergencies are defined in XMS S 5.12, EMP S5.2.8, Training Assessment Booklet Explosives SH&T S1.5
Evacuation distances should be provided to operators if the stated requirement is to evacuate.
Scheduled Magazine Audits
The requirements for scheduled internal audits / inspections of the magazine facilities are unclear. In the SOP6.7.1.2 the OHS Superintendent is required to perform internal magazine audits at quarterly intervals. In S5.13 a monthly internal audit is defined by a person nominated by the SME DB using the Mines Safety Operations Branch Checklist (MEX-01). No evidence of these audits being completed was identified.
Discussions with staff indicate there is an understanding that the CCCV checks replace the requirement for scheduled audits however this is not explicit in process definition.
There is also at S5.8.2 the requirement for completion of the Authorised Inspection Template (no doc ID) at weekly intervals.
Focussed Audits
Based on specific issues identified we have developed targeted audit tools and assessed operations for compliance to an agreed level of control.
Summary
Drill and Blast operations are delivering good movement and fragmentation with managed risk of overpressure, bursting and flyrock.
Daily activities are executed by a competent and capable team. These are well planned and executed with records that provide management visibility over core and critical activities.
However the Drill and Blast Management System is overly complex with excessive procedural detail defined in high level documentation that also contains numerous duplications.
The drill pattern design process does not locate all drill holes in a site survey co-ordinate system. This has contributed to a number of significant issues including:

Lack of control of intershot burdens leading to overlaps and unblasted bridges.
Inability to reconcile drilled hole position with pit shell design limits
Blast reconciliation is weak and this is contributing to static design implementation and a reduced capability to manage continuous improvement.
Audits against recognised best practice standards in order to set targets for operations.
Summary
The annual audit of the drill and blast operation at BHX has shown marked improvement over the past 12 months.
The target for assessment is 3. equivalent to industry standard in Australia.
Overall site achieved an average score of 3.25.
The result of the audit is summarised in the following graph:
Recommendations / Actions
Modified XMP to be reviewed and implemented.
Supplier to implement detailed pump register for all emulsion transfer pumps.
Site procedures to be the basis for programmed task based observations to contribute to:
– Operator assessments
– Procedural review
Site to perform thorough risk review for drill and blast and document control outcomes in procedures
Procedures to be updated to cover omissions and errors as detailed in the main report.
Implement checklists:
– Firing checklist embedded into clearance plan.
– Design checklist for drill and blast engineers.