Surface Shotfirer Training
Surface Shotfirers manage all aspects of the explosives loading, tie-up and firing of blasts in opencut mining, quarrying and surface construction operations. Shotfiring is a statutory position and shotfirers are generally appointed and written into the mine record.
RIIBLA201E – Support Shotfirer Operations
RIIBLA205E – Store, Handle and Transport Explosives
RIIBLA301E – Conduct Surface Shotfiring Operations
RIIBLA305E – Conduct Secondary Blasting
Most operations and regulators require persons to have a Shotfiring License in order to be appointed.
This course is for persons wanting to complete the Surface Shotfirer training course for the units of competency in order to become licensed.
Successful trainees will receive a Statement of Attainment that will support an application for a Shotfirers license in all states and Territories. (See below for additional requirements)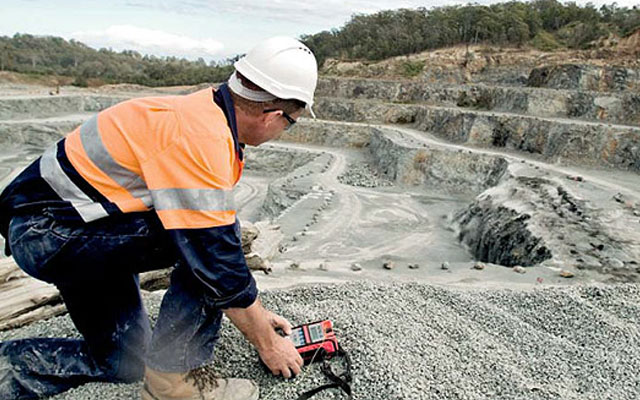 Notes:
An unrestricted shotfirers license requires the completion of an additional unit
RIIBLA402 Monitor and Control the Effect of Blasting on the Environment
A NSW Shotfirer license (Blasting Explosives User License, BEUL) requires the following additional units of competency:
RIIBLA401 Manage Blasting Operations

RIIBLA402 Monitor and Control the Effect of Blasting on the Environment
RIIBLA403 Design Blasts
Full Course for New Shotfirers:
To complete this course candidates will need to provide evidence of practical experience and be signed off as practically competent by a qualified trainer / assessor. Practical assessment may be completed by a site trainer / assessor or by a BMI assessor at an additional cost.
For candidates not able to complete practical assessment a Certificate of Completion for the theory units is, on request, able to be issued. Please note:
A Certificate of Completion is not a recognised qualification and will not support an application for a Shotfirers licence.
The Certificate can be upgraded to a Statement of Attainment on completion of the required practical experience and assessments.
Upgrading a Certificate to a Statement may incur additional costs.
Refresher Course for Existing Shotfirers
Existing Shotfirers must requalify every five (5) years by completing 'Refresher' training.
Refresher training consists of a theory component and submission of evidence of shotfiring activity completed over previous twelve months including some risk assessment and auditing activity.
Classroom Training
Classroom training sessions are delivered by highly qualified shotfirer trainers and run according to the published schedule.
On request BMI will also run site specific classroom training courses on request for a minimum of six candidates.
A shotfirer training course, including practical assessment. is generally completed over a five day period although gathering of log book evidence may take additional time.
Online Training
Online training is available for all units of competency. This self-paced training is web based and may be completed over an extended period.
An extensive set of online resources is provided for all candidates.
| Course | Online | Classroom |
| --- | --- | --- |
| | | |
| Surface Shotfirer - Refresher | | |